Complete CETA Text|05.08.14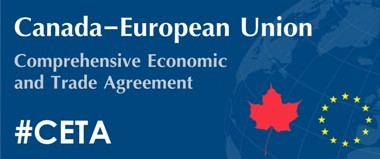 After four years of negotiations, last October, Canada reached a historic Agreement-in-Principle on a free trade agreement with the European Union. 
Today, Canada and the European Union have announced that complete text has been reached; starting a new era of international trade sectors growth:
"This is another important step toward the implementation of the historic Canada-EU trade agreement, which will create jobs and economic opportunities for hard-working Canadians in every region of the country", said Minister of International Trade, Ed Fast.
CETA, from its name in English -Comprehensive Economic and Trade Agreement- it has been designed to eliminate up to 98% of EU and Canadian tariffs, among many other key initiatives.
The process has required an inclusive participation of all Canada's provinces and territories, as expressed by Foreign Affairs, Trade and Development Canada.
In the midst of the official European Union announcement, confirmed by members of the delegation of the EU to Canada, read here what Canada's provinces are saying about CETA.

The next step, along with translation and final legal review of complete text, will be a September Canada-EU summit that will be hosted in Canada. Prime Minister Harper and Minister Fast will be also leading a trade mission to the United Kingdom in early September.
CEMR Group is committed to cooperating with the positioning of businesses in search of growth and international expansion within both nations.  For additional information and business opportunities contact us at This email address is being protected from spambots. You need JavaScript enabled to view it.