CETA Trade Agreement|18.10.13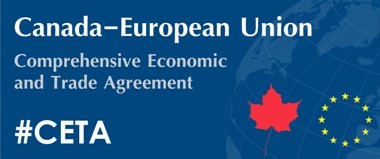 The most ambitious trade agreement in Canadian history –CETA– has reached an agreement in principle, after four years of negotiations, has announced today Canadian Prime Minister, Stephen Harper and European Commission President, José Manuel Barroso at a joint press conference in Brussels.
CETA (The Canadian-European Union Comprehensive Economic and Trade Agreement) is the largest and most inclusive in Canada's history. It is designed to eliminate up to 98% of EU and Canadian tariffs, encourage foreign investment and promote labour and jobs creation. "This trade agreement is an historic win for Canada," said Prime Minister Harper, "It represents thousands of new jobs for Canadians, and a half-billion new customers for Canadian businesses."
Mr. Barroso also expressed the importance of this trade agreement for the EU's economy, categorizing it as a highly ambitious and far-reaching trade agreement.
"Canada is one of the most advanced economies in the world. This agreement will provide significant new opportunities for companies in the EU and in Canada by increasing market access for goods and services and providing new opportunities for European investors. It will be the basis for gaining a strong foothold in the North American market and so provide a catalyst for growth and the creation of jobs in Europe." said President Barroso.
Now that an agreement in principle has been reached, both parties will seek to conclude the formal agreement and undertake a legal review of the document.
Read the official announcement by the Prime Minister of Canada and the EU Press Release.
CEMR Group is committed to cooperating with the positioning of businesses in search of growth and international expansion within both nations. For more information and opportunities contact us at This email address is being protected from spambots. You need JavaScript enabled to view it.