CEMR gets Energetic|23.12.12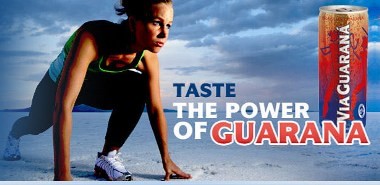 The European based company producer of the ViaGuaraná Energy Drink, has recently joined forces with CEMR Group in the promotion and marketing of its branded product into North American markets.
The drink, produced and packaged in Europe, is a natural energy drink, based on the Amazonian fruit Guaraná, and totally free of Taurine, making it a healthier choice for those needing an extra boost.
Currently being sold across some of the main European markets, ViaGuaraná is undergoing, with the cooperation and management of CEMR Group, a new marketing approach looking to enter new North American markets as well as Latin Americans.
For updates simply 'Like us' on our Facebook business page where we will keep you informed about this and other related products.
 
For specific inquiries about distribution and commercialization of ViaGuaraná Energy Drink contact us at This email address is being protected from spambots. You need JavaScript enabled to view it.